New Jersey Diaper Network: Get Behind the Cause!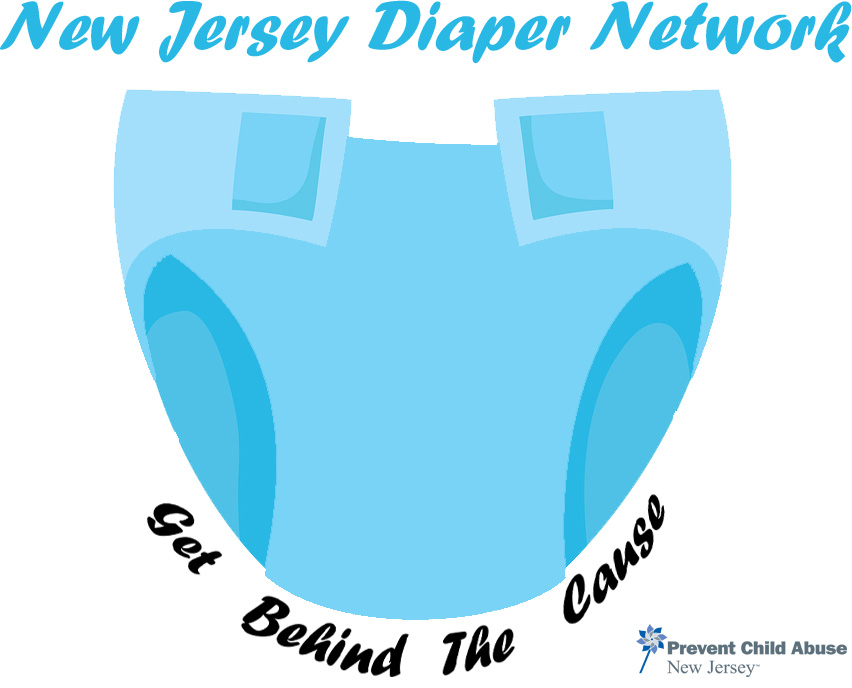 Every baby deserves to have a clean diaper but not all NJ families can afford this basic need.
Prevent Child Abuse-New Jersey has launched a new project called the New Jersey Diaper Network. Our goal is to raise $5,000 to purchase diapers for families in need. We need your help to make this happen.
DID YOU KNOW:
A typical infant uses up to 12 diapers/day; a toddler uses up to 8 diapers/day. In low-income households, a child may be in a single diaper all day or longer, increasing risk of health problems from skin diseases to hepatitis.
Babies that stay in wet and dirty diapers cry more, fuss more, and are unhappy. A baby crying non-stop from being in a soiled diaper for a prolonged period of time is more likely to be abused.
The average child will use more than 2,700 diapers in the first year alone, which can add up!
A healthy change of diapers costs about $100/month for children.
New Jersey has more than 96,000 children under 5 living in poverty.
Safety net programs do NOT cover diapers – not Food Stamps, not WIC.
Inadequate diaper supply can affect a parent's ability to attend work programs and training since most child care providers require that parents provide an adequate supply of disposable diapers.
AND…
Full-time work at minimum wage ($8.44) grosses about $1,160/per month and at $10/hour grosses about $1,600
BUT…
A one bedroom in New Jersey rents for an average of $1,366
A two bedroom in New Jersey averages for $1,757
Often times families have to decide between paying for shelter, food and utilities and paying for diapers. Diaper insecurity is a real issue for NJ's families and their children.
Please donate to help a baby in your community! 
PCA-NJ serves families in EVERY county in New Jersey. Your donation will bring diapers to a family in need and help prevent neglect and abuse for a child in your neighborhood.
Donate to help a family near you. You will have the option in your comments to specify which NJ region you would like your donation to go to, otherwise, if left blank, your donation will go to the region in most need.
The regions are:  
Northern

Bergen County
Essex County
Hudson County
Passaic County
Morris County
Sussex County
Union County
Warren County

Central

Hunterdon County
Mercer County
Middlesex County
Somerset County

Southern

Burlington County
Camden County
Cumberland County
Gloucester County
Salem County

The Shore

Ocean County
Atlantic County
Monmouth County
Cape May County
Please do not send diapers directly to Prevent Child Abuse-NJ as we monitor the need across the state and size needs continuously vary. Some families need newborn sizes while others desperately need a larger size.
We do not have storage, so your monetary donations are utilized to purchase the correct sized diapers for the requesting family.
PCA-NJ will locate the family from statewide child abuse prevention programs, review their size needs, coordinate drop off and deliver to the family.
For those organizations that are interested in sponsoring the NJ Diaper Network, please contact Gina Hernandez at [email protected]. Sponsorship opportunities start at $250.
Thank you to our founding members:
Anonymous
Nicholas D. Borrelli
Barbara Cali
Isabel Chou
William Cladek & Alyssa Denardi-Cladek
Jon Cole
Alisa Dart
Mary Jo Dervos
Maura Somers Dughi Esq. & Robert Dughi
Marc Kaufman & Liza Kirchenbaum
Harvey Lermack
Bob & Alice McCue

Catherine Wells, Esq.
PCA-NJ is a 501 C 3 whose mission is to prevent child abuse and neglect in all of its forms for all NJ's children. All donations are tax deductible.