What is our Purple Onesies project?
The American Academy of Pediatrics recommends placing a baby on his/her back on a firm sleep surface to create a safe sleep environment. To keep babies safe, Prevent Child Abuse-New Jersey created this 100% cotton newborn-size onesie to reinforce this message. (This Side Up is the front!)
The purple color of the onesie also reminds caregivers of the Period of PURPLE® Crying program that teaches about normal infant crying. As the state leader of the program, we believe that when caregivers are educated about normal child development, the risk of abuse – such as shaken baby syndrome – can be reduced.
To gift one or more purple onesies to PCA-NJ for families in our programs – or to purchase one or more for delivery to you – please select below: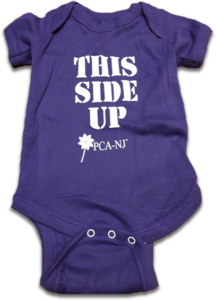 FOR DONATION $10  
100% Cotton Newborn Size Purple Onesie for donation to PCA-NJ programs for families we serve.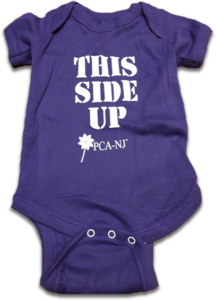 FOR ME $15  
100% Cotton Newborn Size Purple Onesie for delivery to me. _